Xavier
Name
Xavier Nickols
*Bones of the Leech
*Fury of Fire
*Hellfire in Hand
Tribe
Glass Walker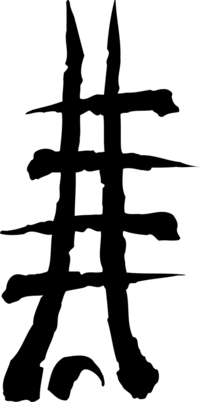 Auspice
Ahroun
Rank
Adren
Breed
Metis
Notable Traits
Xavier stands roughly six foot six inches tall, with a rather casual bearing about him, but possessing a well bred Shadow Lord's features, even though belonging to the Glass Walker Tribe.
Within Homid, Lupus, and Glabro form, he has rash like scales along his shoulders, his spine, and the backs of his hands. The scales gain more of a reptilian shape, luster and strength when Xavier is in Crinos and Hispo.
When the situation arises, Xavier prefers to be within the protection of a set of advanced body armor, with glyphs of Gaia, Cockroach, and Glass Walkers upon it, as well as ornamental cockroaches in varied places along the exterior.
Hellfire, modeled after an 1887 Winchester lever action shotgun, is oft seen hanging around him within close reach.
Pack
None, yet.
==Information known to the Nation==
Born in Birmingham, Alabama to the Sept "High Tower", a Skyscraper.
Kin / family
Mother - Cassandra Nickols - Athro Homid Theurge, Shadow Lord
Father - Michael Nickols - Fostern Homid Ragabash, Glass Walker
Uncle - Jacob Danislav - Elder Homid Galliard, Shadow Lord
Rites and Challenges
Ask IC.
Quests
Retrieved Hellfire, on an Umbral quest given to him by his sept and the spirits of the local area.
== Rumors ==
Xavier is a Shadow Lord putting on a -very- well done ruse to spy on the Veil's Edge sept.
Xavier is a Charach, himself, and has fled to Veil's Edge to seek help.
His insomnia is tied to some sort of leech gift that he received in compensation to spare their life.
Has truly fallen to the Wyrm and has found a way to keep it a secret.
== Quotes ==
==Soundtrack==
*Day 'N' Night
*Make a Move
*I do it like a truck
*Knobbers
*Sweet Home Alabama
*Death of a Hater
==OOC Information==
Player
Kevin
Location
Tampa, FL
Contact info
Ask me!
Return to Characters.